Protect Yourself All Year Round
With August being Immunization awareness month, it got me to thinking about the multiple ways folks who live at John Knox Village East are protected.  The obvious way protection tied to vaccination awareness is that every year we administer flu shots to help people stay healthy during the height of the flu season.  We know that as we age, the ramifications from having a bout with the flu can be more serious. It can quickly progress into severe complications and we don't bounce back from sickness as well as we age.  Helping folks stay protected against the flu made me think of the other ways our residents are protected.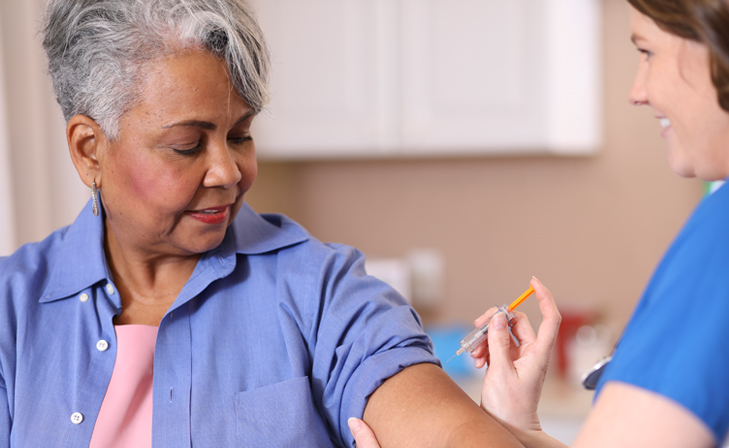 We offer our residents at John Knox Village East protection against the challenges that can present themselves as we age.  We help people age well and stay active and healthy well into their nineties.  This successful aging is achieved by several different factors.
We help people stay active and involved by providing social outlets for people to continue to develop their social connections as they age.  These connections are cultivated by activities such as coffee club, supper club, breakfast club, exercise club, providing transportation and more.  Having these clubs available and proximity to your neighbors protect our residents from the isolation of being in their houses waiting on company that never comes.
We help protect our residents against health declines that come with aging.  We help people stay healthy by having exercise class, lifelong learning class, crafting club, book club and water aerobics that keep people active and healthy physically and mentally.  We also have access to rehabilitation services and healthcare services that help people bounce back from health events or complications.
We help our residents stay financially protected by offering them health care at a significant discount through our Life Care Plan.  This allows our residents to know where they'll be taken care of if the need arises, as well as what it will cost and that the cost will be at a significant discount versus waiting until you have a health care event and have to move directly into a skilled nursing setting.
Overall, we help people protect their wellness by providing a supportive environment with great friends that help folks age more successfully than they would living alone.  Making the move to John Knox Village East is an investment in yourself to help you have the best life you can going forward.
Call us at 660-584-4416 or email us at info@johnknoxvillageeast.com if you'd like to find out how you can enjoy the protection we provide and peace of mind that comes from having a plan in place.
<< Blog